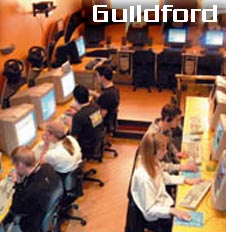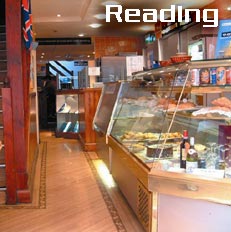 Welcome! We've been around nearly 12 years and in that time our customers have taught us a thing or two ...
Our philosophy has always been that our customers can use the computers as if they were their own. Let's be more specific. Where else can you do the following:
Have unrestricted use of the floppy and cd rom drives at no extra charge
Plug in and use your own USB devices on any machine at any time
Install your own hardware or software on any machine at any time at no extra charge
Print in colour or black and white direct from any desktop
Use sound and/or headphones, either your own or ours
Use microphone hi-res web cams, and any other hardware attached to the machine at no extra charge
Have completely unrestricted access to the net*, uploads, downloads and without annoying timer software
Use the machine knowing that it is protected from viruses at hardware level (invisible to you!)
Use the machine knowing that it is a completely 'clean' build thanks to our groundbreaking smartcard technology (again, invisible to the user)
Use the machine knowing it has all the latest plug ins, services, language packs etc.
Be served hot or cold food and drinks from our full menu directly at your PC, or even have a beer or two**
...all this as STANDARD! If you've used internet cafes elsewhere, you know how restricted they can be. Not so at Quarks!
Even if you have your own laptop and you'd like to plug in, you can. No problem.
And finally, don't forget all branches offer international calling cards, mobile top-up, scanning, faxing, cd burning and a wide range of computer related peripherals.
Even better, we're all really, really nice people, so you can always ask for help if you want to!
Jason Deane
Managing Director
*we do not allow viewing of illegal or unsuitable material in our cafes - please don't try. See disclaimer in stores.
**beers and full menu available in Reading only, although all stores carry a selection of snacks, confectionary and cakes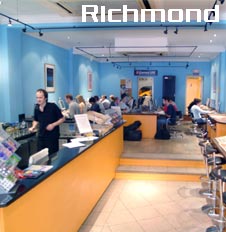 All those late nights are over, the newly furbished downstairs area at Reading is open! 5 extra PCs on the ground floor for those of you who ...click for the whole story!
It's time for one of our famous sell offs! We'll be clearing out our storage facility on Saturday 29th March at Quarks, Richmond, from 9am f ...click for the whole story!
Yes, we're open as usual over Easter, there's some slight variations in the hours, but we'll be there should you need us. This is a great ti ...click for the whole story!
We're very happy to announce that the PC upgrade program has also come to Reading! 10 brand new and seriously high spec games machines have ...click for the whole story!
We've made some BIG changes in Guildford. 10 shiny new games machines, an additonal laptop point (now 4), and an upgrade on the downstairs P ...click for the whole story!